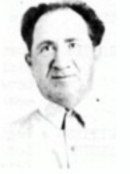 Abraham Chapman (July 3, 1904/1906- died December 25, 1991 natural causes) known as "Trigger Abe", was a Jewish-American mobster, hitman and mob associate of the San Francisco crime family. Believed to be last living member of "Murder, Inc."
Biography
Edit
Chapman was born Abraham Chalupowitz in Poland son of CHatt and Seigel. Chapman first lived in New York where he became a member of the notorious Murder, Inc. in Brooklyn, New York during the 1930s and was an associate of Jewish mob boss Waxey Gordon. He reportedly moved to California in the 1940s where he resided in San Mateo and began frequenting San Francisco gambling houses. In San Francisco he became a close associate of mob soldier Mario Balistreri and allegedly became a hitman in the Bay Area. His rap sheet dated back to 1928 and included arrests for theft, immigration violations and three narcotics convictions. Authorities believed that Chapman operated over the years with the approval and cooperation of important mafiosi all over the country and was a persistent drug trafficker. He was jailed in 1951 and imprisoned in Alcatraz and McNeil island penitentiary and was due for release in October of 1960. He was to be deported upon his release from prison but the Governments efforts to do so failed.
Chapman remained in the San Francisco Area where he also became associated with Teamster leader Rudy Tham and in 1991 at age 84 pleaded guilty to charges of conspiracy for trying to get Tham acquitted of charges of embezzlement. In his later years Chapman claimed to be an insurance salesman in Sacramento and would boast about being the last surviving member of Murder, Inc.
He later retired and died of natural causes December 25, 1991 in Contra Costa, California. {"California Death Index, 1940-1997," index, FamilySearch (https://familysearch.org/ark:/61903/1:1:VGPK-Y27 : accessed 4 April 2015), Abraham Chapman, 25 Dec 1991; Department of Public Health Services, Sacramento.}