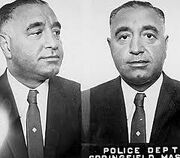 Francesco "Frankie Skyball" Scibelli (born 1912- died 2000) was a capo in the Genovese crime family and boss of the family's Springfield, Massachusetts faction.
Biography
Edit
Scibelli grew up in Springfield's South End neighborhood, and became associated with a mafia crew run by Salvatore Cufari, a Genovese family capo. Scibelli would evolve into a powerful and irreverent regional boss for the New York-based Genovese crime family. Scibelli became boss of the powerful Genovese family crew in Greater Springfield after his predecessor, "Big Nose Sam" Cufari died in 1983.
Organized crime in Springfield had a foothold in more contemporary, traditional rackets: street lotteries, truck heists, illegal sports-betting and casino junkets, among others. Scibelli's criminal record dated back to 1932 and included arrests for extortion, keeping liquor for sale and "gaming on the Lord's Day," according to historical accounts. He was once sentenced to 19 months in jail.
Scibelli's crew included his younger brothers Anthony "Turk" Scibelli and Albert "Baba" Scibelli and future capo Adolfo Bruno. Skyball Scibelli with his brothers and Bruno close at his hip, ran a reportedly wildly successful casino junkets to Las Vegas from an office on Locust Street until they were federally indicted and convicted for illegal gaming in the late 1980s.
Unlike his predecessor, Scibelli spent several stints in prison as prosecutors became more aggressive with organized crime. According to published accounts, he seemed a throwback in that he would grow wide-eyed at talk of "the syndicate" or the Mafia and continually groused about his sentences and the media attention surrounding them.
Conviction
Edit
Scibelli was reportedly a handball partner of a Hampden County district attorney. In 1987, he was convicted on racketeering and gambling charges. Upon his release from prison in 1998, he retired from organized crime, passing on the leadership of the Springfield faction of the Genovese LCN to Adolfo Bruno.
He died in 2000 of natural causes. His funeral was attended by then-Springfield state Senator Linda Melconian, who was married to a Scibelli who had no relation to Skyball.