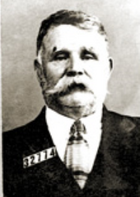 Ignazio Italiano (1860-1930) was an early member and powerful mobster in the Trafficante crime family.
Biography
Edit
Italiano was a friend of Profaci family boss Joseph Profaci, they were from the same town of Villabate in Sicily. Ignazio was a produce salesman's and the uncle to Tampa mob underboss Salvatore "Red" Italiano. Italiano was one of the largest buyers of Profaci's imported olive oil.
During the time Italiano operated in Tampa, the fledgling mafia was just getting their bearings under Italiano and other early Tampa mobsters' guidance. Charlie Wall was the boss of Tampa's underworld at this time. Italiano was involved in bootlegging which was big business, especially in Ybor City.
On October 10, 1928, the capo di tutti capi, Salvatore D'Aquila, was murdered, resulting in a fight for D'Aquila's territory. To prevent a gang war in Brooklyn, a Mafia meeting was called on December 5, 1928, at the Statler Hotel in Cleveland, Ohio. The site was chosen because it was neutral territory outside New York under Porrello crime family control and protection. The main topic was dividing D'Aquila's territory. Attendees representing Brooklyn included Profaci, Joseph Magliocco, Vincent Mangano (who reported to D'Aqulia family boss Alfred Mineo), Joe Bonanno (who represented Salvatore Maranzano and the Castellammarese Clan), Chicago mobsters Joseph Giunta and Pasqualino Lolordo, and Tampa mobster Ignazio Italiano.
Italiano died of natural causes on August 11, 1930.