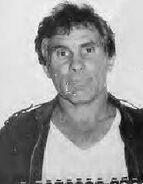 Robert Zeichick, known as "Puggy" is a loanshark and associate of the Los Angeles crime family.
Biography
Edit
In the 1980's Puggy partnered up with Mafia soldier "the Animal" Anthony Fiato to run one of the biggest gambling, loan sharking, and extortion syndicates ever seen on the west coast. The Fiato-Zeichick partnership helped make the L.A. family the dominant loan shark operators in the area. Zeichick and Fiato incorporated all the top west coast Jewish bookies and loan sharks into their crime syndicate. Law enforcement and Mafiosi alike referred to Anthony Fiato and Puggy Zeichick as the Lucky Luciano and Meyer Lansky of Los Angeles.
Puggy was allegedly the brains behind the operation as well as the main financial contributor, while Fiato handled the "muscle" end of the operation collecting debts and making sure that people paid up.
Zeichick is also remembered for being heard on an FBI wiretap telling Fiato "I hope that cunt wife of mines gets killed in a car accident", Fiato quickly suggested to Zeichick that he take out life insurance on her.
Zeichick is reportedly still active in the L.A. crime family.