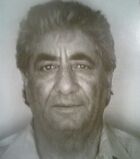 Salvatore "Sam" Carollo (22 Jan 1933-24 Mar 2000 (aged 67)) "Big Sam" a Sicilian-American mobster and member of the Trafficante crime family.
Biography
Edit
Carollo was born in Caccamo Sicily and lived in Chicago before he moved to Florida. During his time in Chicago he was a reputed associate of the Chicago Outfit. He is the cousin of imprisoned Philadelphia crime family boss John Stanfa, and related to the New Jersey faction of the Sicilian Gambino Family. He allegedly became a soldier in the Tampa crime family in the 1980s, he was reportedly brought into the family by Vincent LoScalzo. His legitimate activities include that of a property developer in Pasco County, Florida and he once served as the manager for the Quail Hollow Country Club, which is now owned by one of his sons, Andre Carollo.
His rap sheet includes arrests for racketeering, securities fraud, sale of unregistered security, organized scheme to defraud, grand theft, conspiracy to commit racketeering and multiple DWI's, the charges were dropped in the fraud case and then reinstated in 1995 for which he received 20 years probation. He was also said to be involved with fraud schemes in the early 1990s. His still considered active in the Tampa crime family along with LoScalzo and his crew, which is made up of several individuals, Joe (Crazy Joe) of Buffalo and Richard (Rickey) D alleged enforcer for the crew and driver of Carollo, the last we heard was that he was operating a bar behind the scenes somewhere in or near Dade City, Florida, which is owned by his other son Santo Carollo who was indicted with him back in the nineties on a fraud charge. The Trafficante Family has done a tremendously good job of convincing the authorities that they are all legitimate and not involved in illegal activities but; are still watched from time to time by the Florida Department of Law Enforcement and the FBI in Tampa, who keeps an open file on their activities.