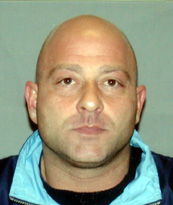 Vincent "Vinny Baldy" Salanardi (born 1962) is a Lucchese crime family soldier. Salanardi was "made" in 1998, placed in captain John "Johnny Sideburns" Cerrella's Brooklyn crew. Salanardi was involved with Lucchese crime family higher ups Joseph Caridi and his capo in maneuvering to force Gambino crime family associate and former John Gotti pal Lewis Kasman out of a Long Island seafood restaurant he was shaking down.
Vincent is the son of Peter Salanardi. He is a cousin of Frank Gioia Jr. and a nephew of Frank Gioia Sr. On December 10, 2002, Salanardi, family consigliere Joseph Caridi, and over 20 other Lucchese wiseguys were indicted on racketeering charges. Investigators obtained a good deal of evidence against the racketeers by wiretapping both of Salanardi's cell phones, and in one memorable conversation he had with a fellow wiseguy he vented about "the life":
"Everything that happens in this crew is not going to be my problem. I am not a boss. I am not a captain. It's not my problem in life. Everything becomes my problem. I ain't the only wiseguy in New York City."
"if I stick my foot down your fucking throat and break your fucking jaw and forget about the $5000, are you going to be happy," Salanardi was overheard telling one debtor. "Make sure you've got the whole balance you owe me on fucking Friday, you understand, or fucking Saturday you're gonna be planted in the fucking hospital." Vinny Baldy's propensity for violence is underscored in numerous anecdotes prosecutors filed in a successful effort to detain him without bail.
In another wiretapped conversation that took place after Jerry Capeci wrote about acting boss Joseph DeFede's cooperation, Salanardi and fellow soldier Joseph Datello detailed the structure of the family, and explained how Datello was made in 1994 and Vinny Baldy in 1998. Five days after the conversation, Datello was captured by law enforcement in Florida.
In another wiretapped conversation with Cerrella, Salanardi tipped off the feds that paroled mobster Matthew Madonna, who served 20 years for supplying heroin to Nicky Barnes, was going to attend a Lucchese crime family Memorial Day party. After his release from prison, Madonna was inducted into the family, and at the time of his parole violation was a Lucchese caporegime.
Salanardi, who never killed anyone, was hammered two weeks ago with an 11-year, three-month prison term – more than three years greater than the longest stretch received by any of his 35 codefendants.
He was released from prison on October 29th, 2014